I decided to pick a word again this year. Last year my word was Rejuvenate. I think that I was able to do many things this year by reusing and redoing things. I had a great time.
This year I wanted to focus on what we have again, but in a different way. The word I picked says a lot. It makes me think and helps me to be content. My word for 2011 is:
APPRECIATE - To be grateful or thankful for.
Here is a LO I made about it: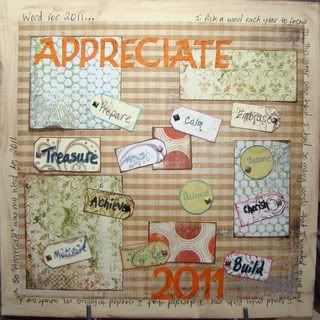 I want to appreciate what I have and help my family to do the same. With the economy doing so poorly we all need to focus on what we have and not keep looking for what we don't have! I hope to be able to do that this year.