Well, I hope my mom does not visit my blog. I don't think she even knows about it. But if she does she will know what she is getting for her birthday in a few weeks.
I got this idea from a friend on Facebook, who posted a link to a photo box. It was very different than this one, but it got me thinking.
So this is what I came up with: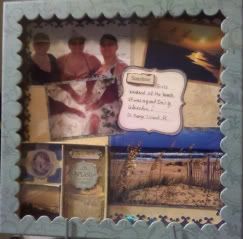 It is filled with items from our "Girls Weekend" to the beach in July. I even included some sand from the beach in a small pouch. Also some small shells. It was a great weekend. I think she will love it.