Well it is National Women's History Month (Thanks
Groovy Deb
) and I am celebrating my Nannie. This is my dad's mom. She became a single mom when my dad was 8. Her husband died and it was very hard on the family. There were 4 kids. The oldest was 16 and the youngest was 5. They learned to make do. My Nannie often says "If you want something bad enough, you will work hard to get it." She worked outside the home and also had a large garden that they all tended to. It provided most of their food and they sold what was left for cash.
My Nannie will be 90 on May 5th of this year. I cannot wait to go see her. We always go to see her on her birthday and this year will be extra special. She is an amazing person and I love to sit and just listen to all the stories that she tells. Even if I have heard them a thousand times before.
Here is a LO I did to celebrate my Vintage Nannie!!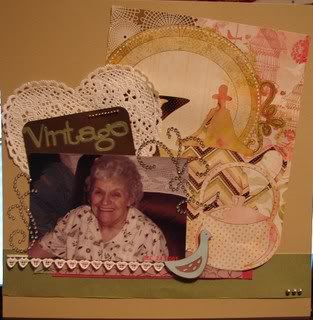 So who will you celebrate this month?