I love to help the kids in the family learn to scrap. My brother's oldest daughter loves to come over and use my stuff. She is 6, but is a little artist in the making. She has always been a creative kid. When she was only 2 she could draw all the Spongbob characters. So On Friday she came over to hang out and we ended up scrapping and creating. She just loved it. She then called me on Saturday and came over again to finish the LO's she started. But this time she brought her own stuff. She had talked my mom into buying her some "Disney Princess" chipboard pieces and she had a blast using them. Here are the LO's that she created. I did help her a little bit, but not much. She likes to do it on her own. I love to watch her look through my stuff and try to figure out what will look good. I think I will make a habit of having her over to scrapbook with me.
Here are her LO's...
This is the LO she did with photos from my wedding 10-20-07
Here is a LO she did with some of her baby pictures. She loved that I found my old photos!!!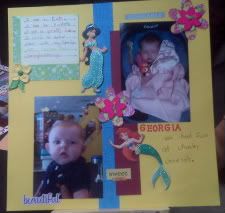 She even hand wrote the journaling on it!! She was so proud of herself.